By Danielle Capilla
Chief Com­pli­ance Offi­cer at Unit­ed Ben­e­fit Advisors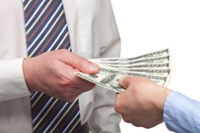 In serv­ing 36,000 employ­ers and 5 mil­lion employ­ees, our UBA Part­ners get this ques­tion fre­quent­ly: What fed­er­al guid­ance pro­hibits employ­ers from reim­burs­ing indi­vid­ual health insur­ance policies?
Answer: The IRS has issued exten­sive guid­ance pro­hibit­ing employ­ers from reim­burs­ing health insur­ance poli­cies on an indi­vid­ual basis. It issued two notices in 2015 that addressed this issue.
In Feb­ru­ary 2015, the IRS pro­vid­ed greater detail on the issue when it issued Notice 2015–17, which address­es employ­er pay­ment or reim­burse­ment of indi­vid­ual pre­mi­ums in light of the require­ments of the Afford­able Care Act (ACA). For many years, employ­ers were per­mit­ted to reim­burse pre­mi­ums paid for indi­vid­ual cov­er­age on a tax-favored basis, and many small­er employ­ers adopt­ed this type of an arrange­ment instead of spon­sor­ing a group health plan. How­ev­er, these "employ­er pay­ment plans" fre­quent­ly are unable to meet all of the ACA require­ments that took effect in 2014, and in a series of Notices and fre­quent­ly asked ques­tions (FAQs) the IRS has made it clear that an employ­er may not either direct­ly pay pre­mi­ums for indi­vid­ual poli­cies or reim­burse employ­ees for indi­vid­ual pre­mi­ums on either an after-tax or pre-tax basis. This is the case whether pay­ment or reim­burse­ment is done through a health reim­burse­ment arrange­ment (HRA), a Sec­tion 125 plan, a Sec­tion 105 plan, or anoth­er mechanism.
The notice reit­er­ates this posi­tion. It also clear­ly states that an employ­er may increase an employ­ee's tax­able wages to help cov­er the cost of health cov­er­age if it choos­es not to offer cov­er­age, but the employ­er may not require an employ­ee to pur­chase health insur­ance or cer­ti­fy that he or she has cov­er­age in order to receive the bonus or oth­er wage increase. If the bonus or increase is specif­i­cal­ly des­ig­nat­ed as a pre­mi­um reim­burse­ment or if it must be used for pre­mi­ums, this would be an imper­mis­si­ble employ­er pay­ment plan.
Under these rules, if the employ­er reim­burs­es or direct­ly pays pre­mi­ums for indi­vid­ual cov­er­age, on either a pre-tax or after-tax basis, it has cre­at­ed a non­com­pli­ant group health plan and the $100 per day per employ­ee penal­ty would apply. Reim­burse­ment and pay­ment of group health pre­mi­ums is still allowed.
Most recent­ly, in Decem­ber 2015, in Notice 2015–87, the IRS restat­ed that employ­er arrange­ments that reim­burse the cost of indi­vid­ual mar­ket cov­er­age under a cafe­te­ria plan will not be inte­grat­ed with the indi­vid­ual mar­ket cov­er­age and that these arrange­ments will be unable to com­ply with the ACA's annu­al dol­lar lim­it pro­hi­bi­tions or the pre­ven­tive ser­vice require­ments and will fail to sat­is­fy mar­ket reforms. Prac­ti­cal­ly speak­ing, these arrange­ments are pro­hib­it­ed regard­less of how they are structured.
In addi­tion to penal­ties for non-com­pli­ance with employ­er shared respon­si­bil­i­ty rules, the ACA has intro­duced a mul­ti­tude of new fees that employ­ers must pay. These dol­lar amounts change annu­al­ly, as does the per­cent­age amount used to cal­cu­late afford­abil­i­ty in rela­tion to the ACA. Down­load UBA's "Ref­er­ence Chart on ACA Fees and Penal­ties" for infor­ma­tion on the applic­a­ble 2015 and 2016 per­cent­ages and dol­lar amounts to help employ­ers under­stand the indexed penal­ty and updat­ed fee amounts.