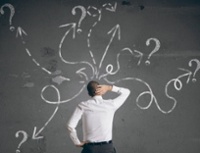 Under the Patient Pro­tec­tion and Afford­able Care Act (ACA), all pub­lic Exchanges are required to noti­fy employ­ers when an employ­ee is receiv­ing a sub­sidy (tax cred­its and cost-shar­ing reduc­tions) for indi­vid­ual health insur­ance pur­chased through an Exchange. Accord­ing to the final rules pub­lished in August 2013, employ­ers have the right, but are not required, to engage in an appeal process through the IRS if they feel an employ­ee should not be receiv­ing a sub­sidy because the employ­er offers min­i­mum val­ue, afford­able coverage.
Some states began send­ing notices from pub­lic Exchanges indi­cat­ing that one or more employ­ees are cur­rent­ly receiv­ing a sub­sidy in 2015, but the U.S. Depart­ment of Health and Human Ser­vices (HHS) announced that all fed­er­al­ly-facil­i­tat­ed Exchanges will begin send­ing notices in 2016. Just because the employ­er receives a notice, it does not mean the employ­er will actu­al­ly owe a penal­ty pay­ment under Sec­tion 4980H.
Dan Bond, Prin­ci­pal, Com­pli­ancedash­board, offers this impor­tant com­men­tary: "I think it's impor­tant for employ­ers to remem­ber that just because they may receive one of these notices from the IRS telling them that one of their employ­ees is receiv­ing a sub­sidy on the exchange, it does not nec­es­sar­i­ly mean the employ­er has expo­sure to a penal­ty. There are var­i­ous rea­sons that some­one might have received a sub­sidy so the employ­er can use this notice to deter­mine exact­ly why and whether or not they have any expo­sure. In fact, small employ­ers will also receive these notices and they are not even sub­ject to the employ­er shared respon­si­bil­i­ty man­date so they will not be sub­ject to penal­ties, regardless."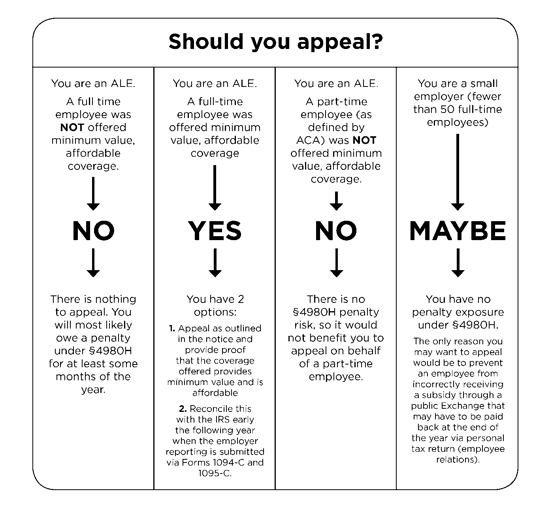 Appeal Form and Process
So long as the require­ments in the final rules are met, each state Exchange is allowed to set up its own process and pro­ce­dures. Infor­ma­tion about how to file an appeal is usu­al­ly includ­ed in the notice, but it may be nec­es­sary to check with the applic­a­ble Exchange to find out exact­ly how to han­dle the appeals process, the par­tic­u­lars of which are man­aged by each Exchange separately.
The form cur­rent­ly used by fed­er­al­ly-facil­i­tat­ed Exchanges, as well as by eight states, may be found on Healthcare.gov (approx­i­mate­ly half of the states are cur­rent­ly using this form and process). The forms and process­es for all oth­er states may be found by vis­it­ing a state's Exchange site. The process gen­er­al­ly involves fil­ing a paper appeal, pro­vid­ing doc­u­men­ta­tion, and in some cas­es par­tic­i­pat­ing in a hearing.
Con­clu­sion
The employ­er does not have to appeal to avoid a penal­ty under Sec­tion 4980H, and penal­ties will not apply until after the employ­er report­ing (via Forms 1094‑C and 1095‑C) is rec­on­ciled. There is some spec­u­la­tion that it may be more ben­e­fi­cial to appeal with the Exchange rather than wait­ing to appeal lat­er with the IRS. This is a fair­ly new process, so the best approach for employ­ers may remain some­what unclear until the first year of employ­er report­ing is completed.
Fil­ing an appeal as soon as pos­si­ble may help avoid has­sles with the IRS and pre­vent the indi­vid­ual from receiv­ing a sub­sidy for which they are inel­i­gi­ble. At the same time, although the appeals process does not appear to be a dif­fi­cult one, it is pos­si­ble that every­thing could be cleared up more quick­ly by sim­ply com­mu­ni­cat­ing direct­ly with the employ­ee that they may be receiv­ing the sub­sidy in error.
By Vic­ki Ran­dall, Orig­i­nal­ly pub­lished by Unit­ed Ben­e­fit Advi­sors — Read More