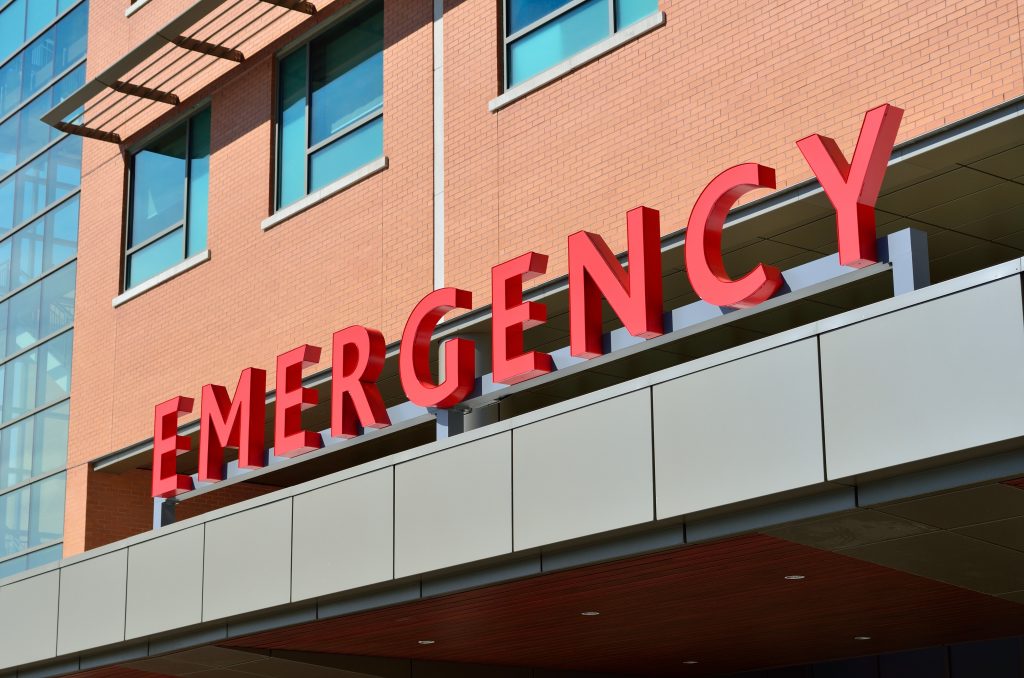 We've all been there – once or twice (or more)—when a child, spouse or fam­i­ly mem­ber has had to gain access to health­care quick­ly. Whether a fall that requires stitch­es; a sprained or bro­ken bone; or some­thing more seri­ous, it can be dif­fi­cult to iden­ti­fy which avenue to take when it comes to walk-in care. With the recent boom in stand-alone ERs (Emer­gency Care Clin­ics or ECCs), as well as, Urgent Care Clin­ics (UCCs) it's easy to see why almost 50% of diag­noses could have been treat­ed for less mon­ey and time with the latter.
It's key to edu­cate your­self and your employ­ees on the dif­fer­ence between the two so as not to get pum­meled by high med­ical costs.
• Most Emer­gency Care facil­i­ties are open 24 hours a day; where­as Urgent Care may be open a max­i­mum of 12 hours, extend­ing into late evening. Both are staffed with a physi­cian, nurse prac­ti­tion­ers, and physi­cian assis­tants, how­ev­er, stand alone ECCs spe­cial­ize in life-threat­en­ing con­di­tions and injuries that require more advanced tech­nol­o­gy and high­ly trained med­ical per­son­nel to diag­nose and treat than a tra­di­tion­al Urgent Care clinic.
• Most indi­vid­ual ERs charge a high­er price for the vis­it – gen­er­al­ly 3–5 times high­er than a nor­mal Urgent Care vis­it would cost. The Amer­i­can Board of Emer­gency Med­i­cine (ABEM) physi­cians' bill at a high­er rate than typ­i­cal Fam­i­ly-Med­i­cine trained Urgent Care physi­cians do (Amer­i­can Board of Fam­i­ly Med­i­cine (ABFM). These bill rates are based on insur­ance CPT codes. For exam­ple, a trip to the neigh­bor­hood ER for strep throat may cost you more than a vis­it to a UC facil­i­ty. Your co-insur­ance fee for a sprain or strain at the same loca­tion may cost you $150 in lieu of $40 at a tra­di­tion­al Urgent Care facility.
• Stand alone ER facil­i­ties may often be cov­ered under your plan, but some of the "ancil­lary" ser­vices (just like vis­it rates) may be billed high­er than Urgent Care facil­i­ties. At times, this has caused many "finan­cial stick­er shock" when they first see those med­ical bills. The New Eng­land Jour­nal of Med­i­cine indi­cates 1 of every 5 patients expe­ri­ence this stick­er shock. In fact, 22% of the patients who went to an ECC cov­ered by their insur­ance plan lat­er found cer­tain ancil­lary ser­vices were not cov­ered, or cov­ered for less. These ser­vices were out-of-net­work, there­fore charged a high­er fee for the same ser­vices offered in both facilities.
So, what can you and your employ­ees do to make sure you don't get duped into addi­tion­al costs?
• Iden­ti­fy the dif­fer­ence between when you need urgent or emer­gency care.
• Know your insur­ance pol­i­cy. Review the def­i­n­i­tion of terms and what por­tion your pol­i­cy cov­ers with regard to deductibles and co-pays for each of these facilities.
• Pay atten­tion to detail. Under­stand key terms that define the dif­fer­ence between these two walk-in clin­ics. Most Emer­gency Care facil­i­ties oper­ate as stand-alone ERs, which can fur­ther con­fuse patients when they need imme­di­ate care. If these cen­ters, or their paper­work, has the word "emer­gency", "emer­gency" or any­thing relat­ed to it, they'll oper­ate and bill like an ER with their ser­vices. Watch for clin­ics that offer both ser­vices in one place. Often, it's very easy to dis­guise their prac­tices as an Urgent Care facil­i­ty, but again due to CPT codes and the med­ical boards they have the right to charge more. Read the fine print.
It's ben­e­fi­cial as an employ­er to edu­cate your employ­ees on this dif­fer­ence, as the more they know – the low­er the cost will be for the employ­er and employ­ee come renew­al time.