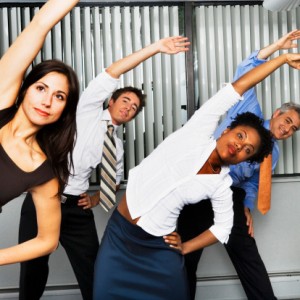 The Equal Employ­ment Oppor­tu­ni­ty Com­mis­sion (EEOC) has sued an employ­er because the penal­ty it applied for not par­tic­i­pat­ing in its well­ness pro­gram was, in the eyes of the EEOC, so high that par­tic­i­pa­tion was not, as a prac­ti­cal mat­ter, "vol­un­tary." Under EEOC rules, an employ­er may con­duct med­ical exam­i­na­tions, which includes obtain­ing med­ical his­to­ries and blood draws, only in lim­it­ed sit­u­a­tions. One of those per­mit­ted sit­u­a­tions is a vol­un­tary well­ness pro­gram. Because the pro­gram did not qual­i­fy as "vol­un­tary," the ques­tions employ­ees were asked about their health on a health risk assess­ment, a blood draw, and a range of motion assess­ment vio­lat­ed the Amer­i­cans with Dis­abil­i­ties Act (ADA), accord­ing to the EEOC's Complaint.
This is the first law­suit brought by the EEOC chal­leng­ing the incen­tives of an employer's well­ness pro­gram. The sit­u­a­tion that cre­at­ed the com­plaint is a bit unusu­al, because the employ­ee was ter­mi­nat­ed short­ly after com­plain­ing about the well­ness pro­gram. How­ev­er, the EEOC also seems dis­turbed by the terms of the pro­gram itself. The pro­gram was designed so that the com­pa­ny paid 100% of the health insur­ance pre­mi­um for employ­ees who par­tic­i­pat­ed in the well­ness pro­gram and paid noth­ing toward the pre­mi­um of any employ­ee who did not par­tic­i­pate. The EEOC has described this penal­ty as "steep" and "enor­mous." It remains to be seen whether the court will agree with the EEOC that the penal­ty vio­lates the ADA rules, but employ­ers con­sid­er­ing sig­nif­i­cant penal­ties for non-com­pli­ance with, or incen­tives for par­tic­i­pat­ing in, a well­ness pro­gram should under­stand that their design could lead to an EEOC charge or lawsuit.
As a reminder, in addi­tion to the ADA require­ments, well­ness pro­grams need to com­ply with PPACA's rules for these pro­grams. Under the 2014 rules, well­ness pro­grams are either "par­tic­i­pa­to­ry" or "health-con­tin­gent." A par­tic­i­pa­to­ry pro­gram is one that either has no reward or penal­ty (such as pro­vid­ing free flu shots) or sim­ply rewards par­tic­i­pa­tion (such as a pro­gram that reim­burs­es the cost of a mem­ber­ship to a fit­ness facil­i­ty or the cost of a sem­i­nar on nutri­tion). As long as a par­tic­i­pa­to­ry pro­gram is equal­ly offered to all sim­i­lar employ­ees, no spe­cial require­ments will apply to the program.
A num­ber of rules apply to "health-con­tin­gent" well­ness pro­grams. Health-con­tin­gent well­ness pro­grams are pro­grams that base incen­tives or require­ments in any way on an employee's health sta­tus. Health sta­tus includes things like body mass index (BMI), blood glu­cose lev­el, blood pres­sure, cho­les­terol lev­el, fit­ness lev­el, reg­u­lar­i­ty of exer­cise, and nico­tine use. A well­ness pro­gram with health-con­tin­gent require­ments must meet all of these requirements:
Be rea­son­ably designed to pro­mote health or pre­vent disease
Give employ­ees a chance to qual­i­fy for the incen­tive at least once a year
Cap the incen­tive at 30% of the cost of cov­er­age if the incen­tive does not relate to non-use of tobac­co and to 50% of the cost of cov­er­age if the incen­tive relates to non-use of tobacco
Pro­vide a rea­son­able alter­na­tive way to qual­i­fy for the incentive
Describe the avail­abil­i­ty of the alter­na­tive method of qual­i­fy­ing for the incen­tive in writ­ten pro­gram materials
The case was filed in Wis­con­sin against Ori­on Ener­gy Systems