By Eliz­a­beth Kay, Com­pli­ance & Reten­tion Analyst
AEIS Advisors
A UBA Part­ner Firm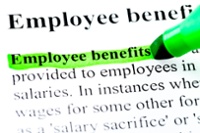 I have worked with my fair share of com­pa­nies, both large and small, from com­pa­nies that are just start­ing out to those that have been well estab­lished for 30 or more years. It has been my expe­ri­ence that most com­pa­nies, no mat­ter how long they have been in busi­ness, don't estab­lish writ­ten poli­cies and pro­ce­dures until they have more than 30 employees.
Many small­er com­pa­nies sim­ply don't have the band­width to get them com­plet­ed. The CEO of a ten-per­son com­pa­ny is most like­ly also the HR Man­ag­er, CFO, and buy­er of office sup­plies. Small­er com­pa­nies are also more like­ly to be more flex­i­ble regard­ing vaca­tion days or paid time off, bring­ing ani­mals to work, dress code, etc. This can lead to prob­lems if a prece­dent is set by giv­ing one employ­ee an extra paid day off, or allow­ing some­one to bring their dog to work, but not allow­ing some­one else to bring theirs because of the type of breed, or because they are long haired instead of short haired.
When com­pa­nies offer a health and wel­fare ben­e­fit plan to their employ­ees, estab­lished process­es and pro­ce­dures become espe­cial­ly impor­tant to help avoid con­fu­sion and errors.
For exam­ple, what hap­pens when an employ­ee is ter­mi­nat­ed, or takes a leave of absence? How are insur­ance pre­mi­um deduc­tions to be han­dled? If an employ­er deducts health insur­ance plan pre­mi­ums from an employee's pay­roll on a week­ly basis, and an employ­ee ter­mi­nates his or her employ­ment in the mid­dle of the month, but cov­er­age stays in place until the end of the month, how do you deduct the pre­mi­um from the employee's pay­roll for the last two weeks of the month? Can you deduct the entire amount from the final paycheck?
The answers to these ques­tions all depend on what your state laws will allow, and what the writ­ten com­pa­ny pol­i­cy says regard­ing pre­mi­um deduc­tions via payroll.
In addi­tion to writ­ten poli­cies and pro­ce­dures help­ing to set stan­dards and best prac­tices for a com­pa­ny, they may also be required to be pre­sent­ed to the Depart­ment of Labor (DOL) in the case of an audit for com­pli­ance with ERISA, HIPAA and the Afford­able Care Act (ACA).
All employ­er-spon­sored health and wel­fare ben­e­fit plans are sub­ject to ERISA, HIPAA and por­tions of the Afford­able Care Act, no mat­ter the size of the com­pa­ny or the num­ber of employ­ees that par­tic­i­pate in the plan. In the past cou­ple of years we have seen groups as small as two lives be audit­ed by the Depart­ment of Labor for ERISA and ACA com­pli­ance, and the num­ber of groups that have been audit­ed has been increas­ing. See our break­ing news release with infor­ma­tion on how to pre­pare an audit.
As an exam­ple, in an audit let­ter from 2014, the DOL not only asked for an employ­er to pro­duce the Women's' Health and Can­cer Rights Act Notice that it gave to employ­ees, but also asked for evi­dence to show how and when the notice was dis­trib­uted when an employ­ee was first enrolled in the plan, and how and when the year­ly notice was distributed.
If an employ­er has a writ­ten pol­i­cy and pro­ce­dure in place, it is easy to pro­vide this infor­ma­tion in the case of an audit.
In addi­tion, audi­tors require proof of com­pli­ance as far back as Sep­tem­ber 23, 2010, when the Afford­able Care Act was first enact­ed. So not only is it impor­tant to keep and main­tain records of your poli­cies, pro­ce­dures, and doc­u­ments relat­ed to your cur­rent plan year, but it is impor­tant to keep them on file for pre­vi­ous plan years.
Many employ­er groups are not in com­pli­ance with at least one ERISA require­ment, so we rec­om­mend that all of our clients con­duct a mock ERISA/HIPAA/ACA audit to iden­ti­fy areas that need improve­ment. While it may seem that com­ply­ing with the alpha­bet soup of health and wel­fare plan reg­u­la­tions can be daunt­ing and expen­sive, for­mer U.S. Deputy Attor­ney Gen­er­al Paul McNul­ty put it this way, "If you think com­pli­ance is expen­sive, try non-compliance."
Audit-proof your com­pa­ny with UBA's lat­est white paper: Don't Roll the Dice on Depart­ment of Labor Audits. This free resource offers valu­able infor­ma­tion about how to pre­pare for an audit, the best way to accli­mate staff to the audit process, what the DOL wants, and the most impor­tant ele­ments of com­ply­ing with requests.
If you have a cafe­te­ria plan, take care to under­stand the dis­tinc­tions and inter­play between ERISA require­ments and cafe­te­ria plan require­ments. Request UBA's ACA Advi­sor, "Report­ing and Plan Doc­u­ments Under ERISA and Cafe­te­ria Plan Rules" for com­pre­hen­sive infor­ma­tion on report­ing, Form 5500, and require­ments for plan documents.