By Geoff Mukhtar
Com­mu­ni­ca­tions Man­ag­er at Unit­ed Ben­e­fit Advisors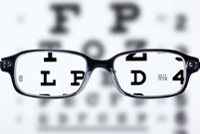 Eighty-one per­cent of employ­ees have elect­ed vision ben­e­fits in 2016, up from 78 per­cent last year, accord­ing to Tran­si­tions. This increase moved vision into a tie with den­tal as the sec­ond most pop­u­lar ben­e­fit elec­tion behind medical.
Dig­i­tal eye strain, which is detailed by a report from The Vision Coun­cil, could be a con­tribut­ing fac­tor to the trend. Some of the Coun­cil's find­ings include:
65 per­cent of Amer­i­cans report expe­ri­enc­ing symp­toms of dig­i­tal eye strain, includ­ing 70 per­cent of women.
Near­ly 90 per­cent of Amer­i­cans use dig­i­tal devices for two or more hours dai­ly and near­ly 60 per­cent do so for five or more daily.
77 per­cent of those who suf­fer from dig­i­tal eye strain use two or more devices simul­ta­ne­ous­ly, with women more like­ly to do so than men. In com­par­i­son, only 53 per­cent of those who use only one device at a time suf­fer from dig­i­tal eye strain.
The symp­toms of dig­i­tal eye strain include neck/back/shoulder pain, headache, blurred ver­sion and dry eyes. In addi­tion to the health con­cerns they bring, these symp­toms can also neg­a­tive­ly impact employ­ee productivity.
An arti­cle in Employ­ee Ben­e­fit News by Dr. Lin­da Chous, Unit­ed­Health­care's chief eye care offi­cer, titled "Dig­i­tal Eye Strain Among Work­ers Caus­ing Employ­ers to Rethink Vision Ben­e­fits," has sev­er­al pre­ven­tion tips for reduc­ing dig­i­tal eye strain in your employees:
Employ­ees should keep com­put­er screens about 30 inch­es away from their eyes.
Employ­ees should rest their eyes every 15 minutes.
Employ­ees should blink fre­quent­ly, which reduces dry eye and helps main­tain eye health.
Chous also advo­cates for reg­u­lar eye exams, for rea­sons beyond dig­i­tal eye strain. She writes, "The eyes are also a win­dow to over­all health. Reg­u­lar eye exams play an impor­tant role in iden­ti­fy­ing and man­ag­ing seri­ous, chron­ic con­di­tions, includ­ing dia­betes, high cho­les­terol, hyper­ten­sion, mul­ti­ple scle­ro­sis and some tumors."
She goes on to note how some employ­ers are now "embrac­ing an inte­grat­ed approach to vision and med­ical ben­e­fits that sup­port patients and health care pro­fes­sion­als with infor­ma­tion, deci­sions and out­comes." These pro­grams have a vari­ety of fea­tures, such as:
Eye care prac­ti­tion­ers can be encour­aged to code claims with chron­ic con­di­tion cat­e­gories, and patients with those diag­noses can be auto­mat­i­cal­ly referred to dis­ease man­age­ment programs.
Eye care prac­ti­tion­ers can be noti­fied of patients with at-risk con­di­tions dur­ing the exam autho­riza­tion process.
Patients with cer­tain con­di­tions (such as dia­betes and hyper­ten­sion) can be noti­fied with a phone call about the impor­tance of their annu­al eye exam.
For patients who may have chron­ic con­di­tions, eye care prac­ti­tion­ers can use spe­cial­ly designed online forms to refer them to pri­ma­ry care providers or specialists.
As an employ­er, you have the abil­i­ty to help pro­tect your employ­ees' eye health–which, in turn, influ­ences their over­all health and pro­duc­tiv­i­ty. And, with adults under 30 expe­ri­enc­ing the high­est rates of dig­i­tal eye strain (73 per­cent) of all age groups, tak­ing actions and pro­vid­ing ben­e­fits that pro­tect employ­ees' eye health is like­ly to become even more important.