His­tor­i­cal­ly, com­pa­nies have strug­gled with the best way to pack­age and deliv­er ben­e­fits to attract tal­ent and retain staff. Today, com­pa­nies under­stand that they need to lever­age a vari­ety of solu­tions to pro­vide mean­ing­ful health­care cov­er­age, pro­mote well­be­ing and mit­i­gate cost. UBA Part­ners offer inno­v­a­tive prod­uct and ser­vice solu­tions to iden­ti­fy med­ical spend waste and improve effi­cient spend, allow­ing employ­ers to rein­vest in the cor­rect resources that will improve employ­ee health. For one mid-sized man­u­fac­tur­er, UBA Part­ner LHD Ben­e­fit Advi­sors used Vital Incite risk scor­ing tools to coor­di­nate efforts between the employ­er HR and C‑suite, the advi­sor and the pop­u­la­tion health consultant.
Key infor­ma­tion unique to this employer:
Japan­ese owned and mul­ti­ple nation­al­i­ties employed with lit­tle knowl­edge of the Amer­i­can health care sys­tem oth­er than in the HR team
Man­u­fac­tur­ing com­pa­ny with pre­dom­i­nate­ly male employees
Onsite clin­ic opened April 2014 with ini­tial ser­vices includ­ing pri­ma­ry care, phys­i­cal ther­a­py, mas­sage ther­a­py, lab, nurse health coaching
Increase in med­ical plan par­tic­i­pa­tion due to grow­ing work­force and rich med­ical plan offered at a low cost to employees.
Val­ue of what was delivered:
Improved risk migra­tion of high/very high risk mem­bers (total pop­u­la­tion and same cohort)
Improved effi­cien­cy of med­ical plan uti­liza­tion and improved unit cost
Improved care coor­di­na­tion (decreased ER vis­its, decrease in mul­ti­ple med­ica­tions, increase in num­ber of mem­bers with a pri­ma­ry care physician)
Tar­get­ed out­reach from onsite clin­ic to improve over­all health of members
Prob­lem 1: Increase in med­ical plan spend
Pri­or to the clin­ic open­ing, the med­ical plan saw uti­liza­tion of ER vis­its and imag­ing ser­vices along with asso­ci­at­ed costs above bench­mark. The num­ber of cov­ered lives (employ­ees and spous­es) was also increas­ing as well as the aver­age employ­er paid amount per mem­ber due to high cost uti­liza­tion of an unman­aged work­force. Cur­rent med­ical plans were two low deductible, PPO plans with lit­tle con­sumerism and offered at low cost to employees.
Prob­lem 2: Low onsite clin­ic utilization
The first six months the clin­ic was open showed low uti­liza­tion for sev­er­al ser­vices result­ing in the employ­er reduc­ing ser­vices effec­tive Jan­u­ary 1, 2015, through March 31, 2015, to help reduce costs. The sus­pend­ed ser­vices includ­ed patient advo­ca­cy, evening clin­ic hours, reduced health coach­ing hours and phys­i­cal ther­a­py. In order to ful­ly rec­og­nize the ben­e­fit of an onsite clin­ic, employ­ees need­ed eas­i­er access to the clin­ic dur­ing work­ing hours, a bet­ter under­stand­ing of ser­vices pro­vid­ed (i.e. labs, med­ica­tions and nurse coach­ing) and tar­get­ed out­reach to key members.
Prob­lem 3: Increase in risk migra­tion of mem­ber population
Data revealed employ­ees car­ried the major­i­ty of the high/very high risk, and risk migra­tion from 2013 to 2014 showed a neu­tral to slight increase (Fig­ure 1). Fur­ther analy­sis showed a high­er than aver­age per­cent­age of untreat­ed chron­ic con­di­tions, includ­ing dia­betes, high cho­les­terol and high blood pres­sure. Cost infor­ma­tion from a dis­ease per­spec­tive showed the poten­tial impact spe­cif­ic dis­ease pro­grams with­in the clin­ic could have on employ­ee health and med­ical cost.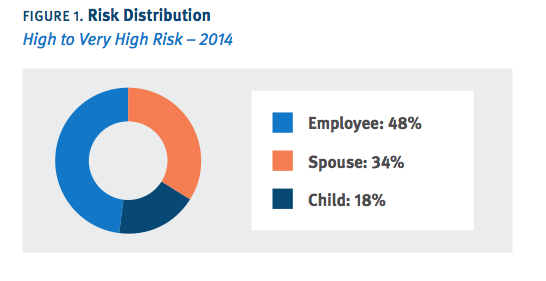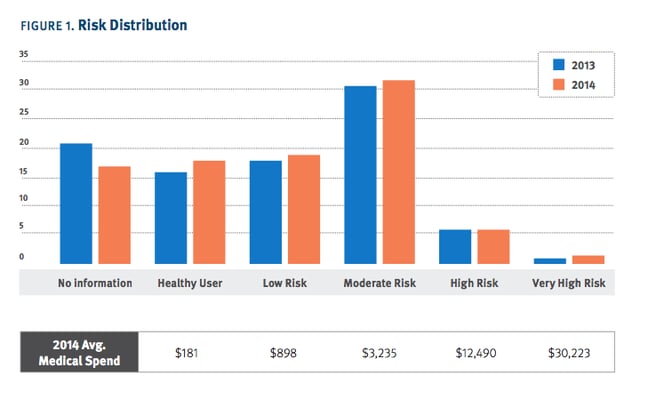 Analy­sis of Avoid­ed Costs
The data report­ed from the pop­u­la­tion health team was instru­men­tal in devel­op­ing a strat­e­gy to have an impact on the mem­ber pop­u­la­tion and a suc­cess­ful onsite clin­ic. Once there was an under­stand­ing of the prospec­tive risk and impact of chron­ic dis­ease man­age­ment by the employ­er C‑suite, the HR team gained sup­port for the ini­tia­tives devel­oped by the pop­u­la­tion health and HR teams. A key illus­tra­tion (Fig­ure 2) to this point was show­ing a cost avoid­ance cal­cu­la­tion for key ser­vices pro­vid­ed by the onsite clinic.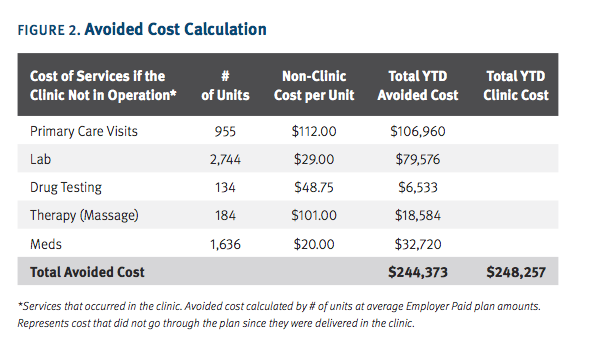 To learn about the rec­om­mend­ed solu­tions, the imple­men­ta­tion strate­gies, and how data was used to mea­sure results, down­load the full case study.