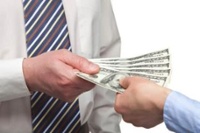 I was recent­ly asked to speak to a gath­er­ing of hos­pi­tal-spon­sored health plans and providers of health care ser­vices about our health care sys­tem, and trends I see devel­op­ing which threat­en it. I'd planned to talk about how the Patient Pro­tec­tion and Afford­able Care Act (ACA or Oba­macare) only tar­gets one-third of the health care sys­tem – that being pay­ers (insur­ance), while most­ly ignor­ing the oth­er two-thirds: providers and patients. Call it a scape­goat, or some­thing else, but of the three play­ers in health care, insur­ance is the vil­lain. It's easy, then, to say that what's wrong with health care is what's wrong with insur­ance, and vice ver­sa. As such, fix­ing health care then becomes fix­ing health insur­ance. Rather than assign blame to all three – providers, patients, and pay­ers – it's polit­i­cal­ly expe­di­ent to point a fin­ger sole­ly at the least pop­u­lar of the three: the pay­er. And so, health care reform became health insur­ance reform; but as I've said many times before, insur­ance isn't health care – it's a way to pay for health care. This idea that insur­ance is to blame for the over­all cost of health care, that it can strong-arm providers into tak­ing what­ev­er they want to pay, and thus, the ris­ing cost of insur­ance is based sole­ly on greed and not at all on the actu­al cost of the care, is a lie. There is anoth­er atti­tude that it's eas­i­er for insur­ance to raise pre­mi­ums than push back on the cost of care, because push­ing back on providers is tough, and – for the insured – not hav­ing insur­ance means cer­tain death (and thus they will pay any pre­mi­um). This holds a lit­tle more water; how­ev­er, it wrong­ful­ly assumes that with­out insur­ance there is no health care. Yet, the truth is that health care would exist with or with­out insur­ance; we'd just need to find a dif­fer­ent way to pay for it. Peo­ple "need" insur­ance – not for its own sake – but to pay for health care, because health care itself is too expensive.
Imag­ine the fol­low­ing sce­nario: Oil changes for your car jump to $1,000 per oil change. Rather than be out­raged with the price, we turn around and demand that auto insur­ance start pay­ing for it. We then get out­raged when auto insur­ance rates increase. Insur­ance isn't with­out blame. Indeed, I believe that some forms of insur­ance are too prof­it dri­ven, and/or force insureds to pay the cost when they make mis­takes or act inef­fi­cient­ly. Yet, with that said, blam­ing those actors (even the bad ones) for all the prob­lems fac­ing health care is a huge mis­take. Health insur­ance is not a behe­moth, stomp­ing around, forc­ing its will on insureds and providers. In fact, the oppo­site is true. Prob­lems with the sta­tus quo arise not from the strength of the insur­ance mar­ket, but rather, its weakness.
This brings us to the top­ic I opt­ed to speak about, and the top­ic about which I write today. That this issue would be abol­ished by a sin­gle-pay­er sys­tem – at the expense of med­ical ser­vice providers, and thus, providers need to take action now to aid our employ­ment based ben­e­fit plans, before they cut off their own nose to spite their own face.
Present­ly, insur­ers (try to) nego­ti­ate with hos­pi­tals and drug com­pa­nies on their own. To do this, many rely upon pre­ferred provider orga­ni­za­tion (PPO) net­works or oth­er such pro­grams. In exchange for agree­ing to the net­work terms, providers are promised prompt pay­ment, and reduc­tions in (or elim­i­na­tion of) audits and oth­er activ­i­ties pay­ers oth­er­wise engage in when deal­ing with med­ical bills sub­mit­ted by out-of-net­work providers. Indeed, ben­e­fit plans uni­lat­er­al­ly cal­cu­late what the cov­ered amount is when pay­ing an out-of-net­work provider (usu­al­ly result­ing in the "bal­ance" being "billed" to the patient). When pay­ing an in-net­work provider, how­ev­er, ben­e­fit plans are required to pay the net­work rate (the billed charge minus an agreed upon dis­count), regard­less of what pric­ing para­me­ters they'd usu­al­ly apply to out-of-net­work bills. This is agree­able to the pay­er, mean­while, because it means they get a dis­count (albeit off of inflat­ed rates), and, more impor­tant­ly, the pay­ment is pay­ment in full – mean­ing patients aren't bal­ance billed.
Due to the payer's lack of size and num­ber of pay­ers present, com­pe­ti­tion between pay­ers and net­works, and oth­er ele­ments present in our mar­ket, pay­ers can­not "strong arm" providers. Com­pare this to mar­kets where there is a sin­gle pay­er; when providers must agree to terms con­trolled by the pay­er, since it's their way or no way. In oth­er words, in a pure sin­gle-pay­er sys­tem, there is only one pay­er avail­able – and you play by their rules, or you don't play at all. Cur­rent­ly, in the Unit­ed States, Medicare and Med­ic­aid are the two "biggest" pay­ers, and thus, it should come as no sur­prise that they rou­tine­ly secure the best rates.
A 2011 study found that reim­burse­ments to some U.S. providers from pub­lic pay­ers, such as Medicare and Med­ic­aid, were 27 per­cent high­er than in coun­tries with uni­ver­sal cov­er­age, and reim­burse­ments from pri­vate pay­ers were 70 per­cent high­er than the Medicare pay­ment. This tells you two things – pri­vate plans pay way more than Medicare, and Medicare pays way more than "sin­gle-pay­er systems."
What does this mean? If providers fail to offer pri­vate pay­ers bet­ter rates soon, they will bank­rupt the sys­tem. If that hap­pens, Medicare will go from being the "biggest" pay­er to the "only" pay­er, and the rates they pay will drop accordingly.
Why is this a prob­lem? Because, like it or not, providers are busi­ness­es too; and if they sud­den­ly see pay­ments plum­met to "sin­gle-pay­er" rates, they will take action to remain prof­itable. Months to have a lump exam­ined? Hours upon hours sit­ting in a wait­ing room? Death pan­els? The "hor­ror" sto­ries we hear from oth­er nations with sin­gle-pay­er sys­tems are not shock­ing – they are expect­ed. Yet, those who sup­port a sin­gle-pay­er sys­tem do so because the cur­rent sys­tem is too expen­sive. Thus, to avoid a sin­gle-pay­er sys­tem, we need to make health care less expen­sive. How do we do that? Reduce the cost of health care, and reduce the cost of health insur­ance accordingly.
Ideas for the Future
First, many have argued (and I tend to agree) that health insur­ance pays for too many med­ical ser­vices. Rou­tine, fore­see­able ser­vices should not be "insured" events. Insur­ance is meant to shift risk, asso­ci­at­ed with unfore­seen cat­a­stroph­ic events. A flu shot doesn't fall into that cat­e­go­ry. If peo­ple paid for such costs out of their own pock­et, hope­ful­ly the cost of insur­ance would decrease (adding cash to the individual's assets with which they can pay for said expens­es). Like­wise, hope­ful­ly providers would rec­og­nize that peo­ple are pay­ing for these ser­vices out of their own pock­ets, and reduce their fees accord­ing­ly. If an insur­ance car­ri­er want­ed to reim­burse insureds for these expens­es (pro­mot­ing a healthy lifestyle and avoid­ing some cat­a­stroph­ic costs insur­ance would oth­er­wise pay) or employ­ers want to cov­er these costs as a sep­a­rate and inde­pen­dent ben­e­fit of employ­ment (dis­tinct from health insur­ance) so be it; (cough*self-funding*cough).
Next, we need to refo­cus on pri­ma­ry care as the gate­keep­er. I've seen a move­ment toward "physi­cian only" net­works, direct pri­ma­ry care, and oth­er inno­v­a­tive meth­ods by which ben­e­fit plans and employ­ers pro­mote the use of pri­ma­ry care physi­cians, and I applaud the effort. They pro­vide low-cost ser­vices, iden­ti­fy poten­tial high-cost issues before they mul­ti­ply, and steer patients to the high­est qual­i­ty, yet low­est cost, facil­i­ties and spe­cial­ists when needed.
Last­ly, I've seen ben­e­fit plans attempt to remove them­selves from tra­di­tion­al "bind­ing" net­work arrange­ments across the board, instead using net­works in a much more nar­row func­tion (con­tract­ing direct­ly with one or two facil­i­ties in a giv­en geo­graph­ic area). By engag­ing with spe­cif­ic facil­i­ties direct­ly, they can find com­mon ground, and iden­ti­fy valu­able con­sid­er­a­tion not pre­vi­ous­ly con­sid­ered. Between increased steer­age, true exclu­siv­i­ty, elec­tron­ic pay­ment, prompt pay­ment, ded­i­cat­ed concierge, and oth­er ser­vices pay­ers can offer hos­pi­tals when they lim­it the scope of who is includ­ed – above and beyond dol­lars and cents – some facil­i­ties are able to reduce their ask­ing price to a rate that will allow the plan to sur­vive and thrive.
Orig­i­nal­ly pub­lished by www.ubabenefits.com