By Bill Olson
Chief Mar­ket­ing Offi­cer at Unit­ed Ben­e­fit Advisors
We've just released the lat­est find­ings from the UBA Health Plan Sur­vey relat­ed to how health reim­burse­ment arrange­ments (HRAs) and health sav­ings accounts (HSAs) are being used among employ­ers. (Spoil­er alert: Cal­i­for­nia employ­ers lead the way with the most gen­er­ous account-based plans.)
So which is far­ing bet­ter in the indus­try, HRAs or HSAs? The answer very much depends on where you are in the coun­try, what indus­try you're in, and how many employ­ees you have. See our free spe­cial report for all the detailed find­ings.
At a glance, here are the win­ners and losers when it comes to HSA plans: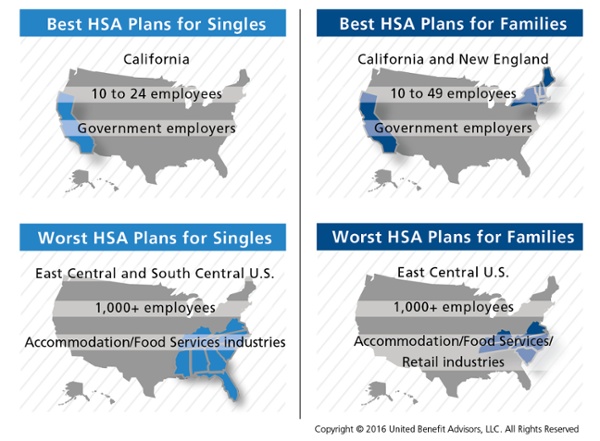 A health reim­burse­ment arrange­ment (HRA) and a health sav­ings account (HSA) have many things in com­mon, but also sev­er­al key dif­fer­ences that define their pur­pose and ben­e­fits. For a clos­er look at the dif­fer­ences and sim­i­lar­i­ties, see the UBA doc­u­ment HRAs, HSAs, and Health FSAs – What's the Difference?