By Bill Olson
Chief Mar­ket­ing Offi­cer at Unit­ed Ben­e­fit Advisors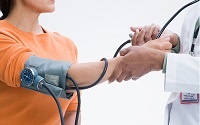 As well­ness pro­grams con­tin­ue to flour­ish par­tic­u­lar­ly among large employ­ers, a dis­cov­ery is being made about one of the most impor­tant health con­di­tions – hyper­ten­sion. Hyper­ten­sion (also known as high blood pres­sure) is a med­ical issue where the pres­sure of the blood in a person's car­dio­vas­cu­lar sys­tem is con­stant­ly ele­vat­ed. Accord­ing to the Mayo Clin­ic, a per­son can have high blood pres­sure for years with­out any symp­toms. Yet even with­out symp­toms, dam­age to arter­ies, blood ves­sels, and even the heart con­tin­ues until seri­ous health issues, includ­ing a heart attack and stroke, happen.
Accord­ing to an arti­cle on the web­site of Employ­ee Ben­e­fit News titled, "Many employ­ees unaware of hyper­ten­sion," the dis­cov­ery is that almost 70 per­cent of employ­ees whose hyper­ten­sion was detect­ed dur­ing work­place health screen­ings were com­plete­ly unaware they had the con­di­tion. The research was pub­lished in the Jour­nal of Occu­pa­tion­al and Envi­ron­men­tal Med­i­cine.
So, why should employ­ers care? Aside from the seri­ous health con­cern this pos­es to the employ­ee, this lack of aware­ness is cost­ly to an employ­er whether or not an employ­er pro­vides health insur­ance. Hyper­ten­sion adds more to an employer's health care costs per employ­ee than any oth­er con­di­tion includ­ing depres­sion and men­tal ill­ness. Peo­ple who have high blood pres­sure miss more work days ver­sus peo­ple with­out the condition.
The good news for both employ­ers and employ­ees is that hyper­ten­sion is one of the eas­i­est things to test and one of the most cost effec­tive well­ness screen­ings. Test­ing can be done on-site, via kiosks, or as part of a full bio­met­ric pro­gram. Fur­ther­more, if hyper­ten­sion is dis­cov­ered, it's eas­i­ly con­trolled with diet, exer­cise, lifestyle changes, and med­i­cine. The research pre­vi­ous­ly ref­er­enced not­ed that peo­ple who are over­weight (or have a poor diet), have a seden­tary lifestyle, smoke, or dia­betes have a greater chance of undi­ag­nosed high blood pressure.
The soon­er a per­son real­izes they have hyper­ten­sion, the soon­er they can get the treat­ment nec­es­sary to improve their health. Employ­ers should con­sid­er imple­ment­ing the fol­low­ing strate­gies to improve the health of their workforce.
Because so many employ­ees are unaware they have hyper­ten­sion, edu­ca­tion is an impor­tant first step. May is Nation­al High Blood Pres­sure Month, so it's a great oppor­tu­ni­ty to moti­vate employ­ees to get screened. Healthy eat­ing and drink­ing can be sup­port­ed through the stock­ing of vend­ing machines with low-sodi­um snacks and bev­er­ages. Exer­cise should be encour­aged as often as pos­si­ble as a great way to low­er blood pressure.
There's no sure-fire way to alle­vi­ate hyper­ten­sion that all employ­ers and employ­ees can agree on, but there's no deny­ing that a healthy work­force improves pro­duc­tiv­i­ty and reduces employ­er costs. By uti­liz­ing mul­ti­ple strate­gies for com­bat­ing hyper­ten­sion, employ­ers and employ­ees can reach a com­mon goal.
The 2015 UBA Health Plan Sur­vey revealed that 67.5 per­cent of employ­ers offer­ing well­ness pro­grams include bio­met­ric screen­ings as part of their pro­gram, an increase of 6.5 per­cent from the pre­vi­ous year. The use of well­ness sem­i­nars is also on the rise. If you offer these well­ness tools, be sure your provider is address­ing hypertension.