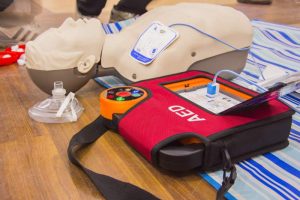 The lat­est effort to reduce Sono­ma Coun­ty deaths from car­diac arrest comes from a Petaluma com­pa­ny that recent­ly pledged $100,000 to pur­chase auto­mat­ed exter­nal defib­ril­la­tors for North Bay busi­ness­es. Sta­cy Gib­bons, exec­u­tive direc­tor of Amer­i­can Heart Asso­ci­a­tion North Bay, called the move by Arrow Ben­e­fits Group "unprece­dent­ed."
Arrow Ben­e­fits Group's first for­ay into reduc­ing car­diac arrest deaths was in late 2014, when the com­pa­ny asked the Petaluma Health Care Dis­trict to teach its employ­ees hands-only CPR.
Read entire arti­cle here.