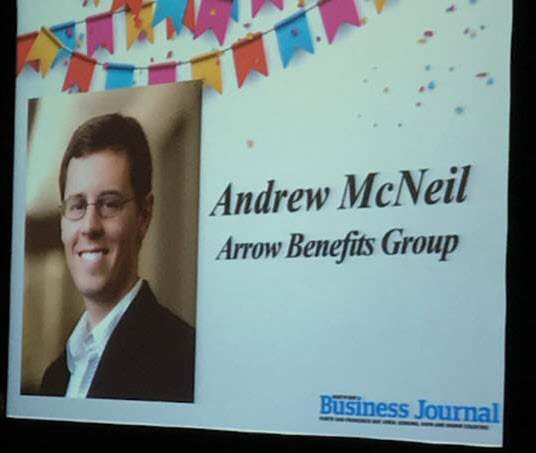 The offer to stand in for your own broth­er at an awards gala set to hon­or his achieve­ments was not an oppor­tu­ni­ty I took light­ly. Would this, at last, be my pub­lic forum to embar­rass Andrew with an accep­tance speech in his absence? Since our iden­ti­ties are often con­fused in public–could I sim­ply show up as him? The pos­si­bil­i­ties were endless.
Of course, this was not a night about me and no place for such shenanigans–this was Andrew McNeil's night, as well as 39 oth­er youth­ful, deserv­ing indi­vid­u­als in our community.
The recent 2016 "Forty Under 40" event host­ed by the North Bay Busi­ness Jour­nal up in Rohn­ert Park was a joy­ous evening to be a part of. There is some­thing rather life-affirm­ing in cel­e­brat­ing the work of those still ear­ly in their careers. The irony of "Forty Under 40" is it's an event that cel­e­brates work already done, but in truth it's real­ly more an event about the work still to come. It's a night that exudes opti­mism of ambi­tious goals unfin­ished. And what bet­ter group of peo­ple to achieve these goals?
Still quite ear­ly in my own career, I ben­e­fit from iden­ti­fy­ing the trends in what makes our com­mu­nal youth see their suc­cess: Is it set­ting per­son­al goals? Good men­tors? A hard work eth­ic? Work­ing for a com­pa­ny will­ing to sup­port you? Per­haps to no sur­prise, for every­one it seemed to involve a mix­ture of all of the above.
Since Andrew and I are part of a local fam­i­ly busi­ness in a com­pet­i­tive insur­ance bro­ker envi­ron­ment, hav­ing this award to our name is a great val­i­da­tion for the work we do at Arrow. More impor­tant­ly, it's a great val­i­da­tion for the work Andrew has done to ben­e­fit the health of our local com­mu­ni­ty and to pro­pel our busi­ness forward.
Andrew McNeil–my broth­er, cowork­er, and office next door neighbor–is not only incred­i­bly deserv­ing of the award, but it was a reward­ing expe­ri­ence to be there in his place. His cowork­ers are proud, those he helps in the com­mu­ni­ty are proud, and most of all his broth­er is proud.
Stephen McNeil, GBA
Principal
Arrow Ben­e­fits Group