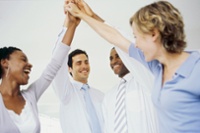 One of the lat­est things trend­ing right now in busi­ness is the impor­tance of office cul­ture. When every­one in the office is work­ing well togeth­er, pro­duc­tiv­i­ty ris­es and effi­cien­cy increas­es. Nat­u­ral­ly, the oppo­site is true when employ­ees do not work well togeth­er and the cor­po­rate cul­ture suf­fers. So, what are these bar­ri­ers and what can you do to avoid them?
Accord­ing to an arti­cle titled, "8 ways to ruin an office cul­ture," in Employ­ee Ben­e­fit News, the ways to kill cor­po­rate cul­ture may seem intu­itive, but that doesn't mean they still don't hap­pen. Here's what orga­ni­za­tions SHOULD do to improve their cor­po­rate culture.
Pro­vide pos­i­tive employ­ee feed­back. While it's easy to crit­i­cize, and point­ing out employ­ees' mis­takes can often help them learn to not repeat them, it's just as impor­tant to rec­og­nize suc­cess and praise an employ­ee for a job well done. An "attaboy/attagirl" can real­ly boost someone's spir­its and let them know their work is appreciated.
Give cred­it where cred­it is due. If an assis­tant had the bright idea, if a sub­or­di­nate did all the work, or if a con­sul­tant dis­cov­ered the solu­tion to a prob­lem, then he or she should be pub­licly acknowl­edged for it. It doesn't mat­ter who super­vised these peo­ple, to the vic­tor go the spoils. If some­one had the guts to speak up, then he or she should get the glo­ry. Theft is wrong, and it's just as wrong when you take someone's idea, or hard work, and claim it as your own.
Sim­i­lar­ly, lis­ten to all ideas from all lev­els with­in the com­pa­ny. Every employ­ee, regard­less of their posi­tion on the cor­po­rate lad­der, likes to feel that their con­tri­bu­tions mat­ter. From the C‑suite, all the way down to the interns, a gen­uine­ly good idea is always worth inves­ti­gat­ing regard­less of whether the per­son who sub­mit­ted the idea has an Ivy League degree or not. Fur­ther­more, some­times it takes a dif­fer­ent per­spec­tive – like one from an employ­ee on a dif­fer­ent management/subordinate lev­el – to see the best way to resolve an issue.
Fos­ter team­work because many hands make light work. Or, as I like to say, com­pe­ti­tion breeds con­tempt. You com­pete to get your job, you com­pete exter­nal­ly against oth­er com­pa­nies, and you may even com­pete against your peers for an award. You shouldn't have to com­pete with your own co-work­ers. The win­ner of that com­pe­ti­tion may not nec­es­sar­i­ly be the best per­son and it will often have neg­a­tive con­se­quences in terms of trust.
Get rid of unpro­duc­tive employ­ees. One way to sti­fle inno­va­tion and hurt morale is by hav­ing an employ­ee who doesn't do any work while every­one else is either pick­ing up the slack, or cov­er­ing for that person's duties. Some­times it's nec­es­sary to prune the branches.
Let employ­ees have their pri­va­cy – espe­cial­ly on social media. As long as an employ­ee isn't con­duct­ing per­son­al busi­ness on com­pa­ny time, there shouldn't be any­thing wrong with an employ­ee updat­ing their social media accounts when they're "off the clock." In addi­tion, as long as employ­ees aren't divulging com­pa­ny secrets, or pro­vid­ing oth­er cor­po­rate com­men­tary that runs afoul of local, state, or fed­er­al laws, then there's no rea­son to mon­i­tor what they post.
Orig­i­nal­ly pub­lished by www.ubabenefits.com