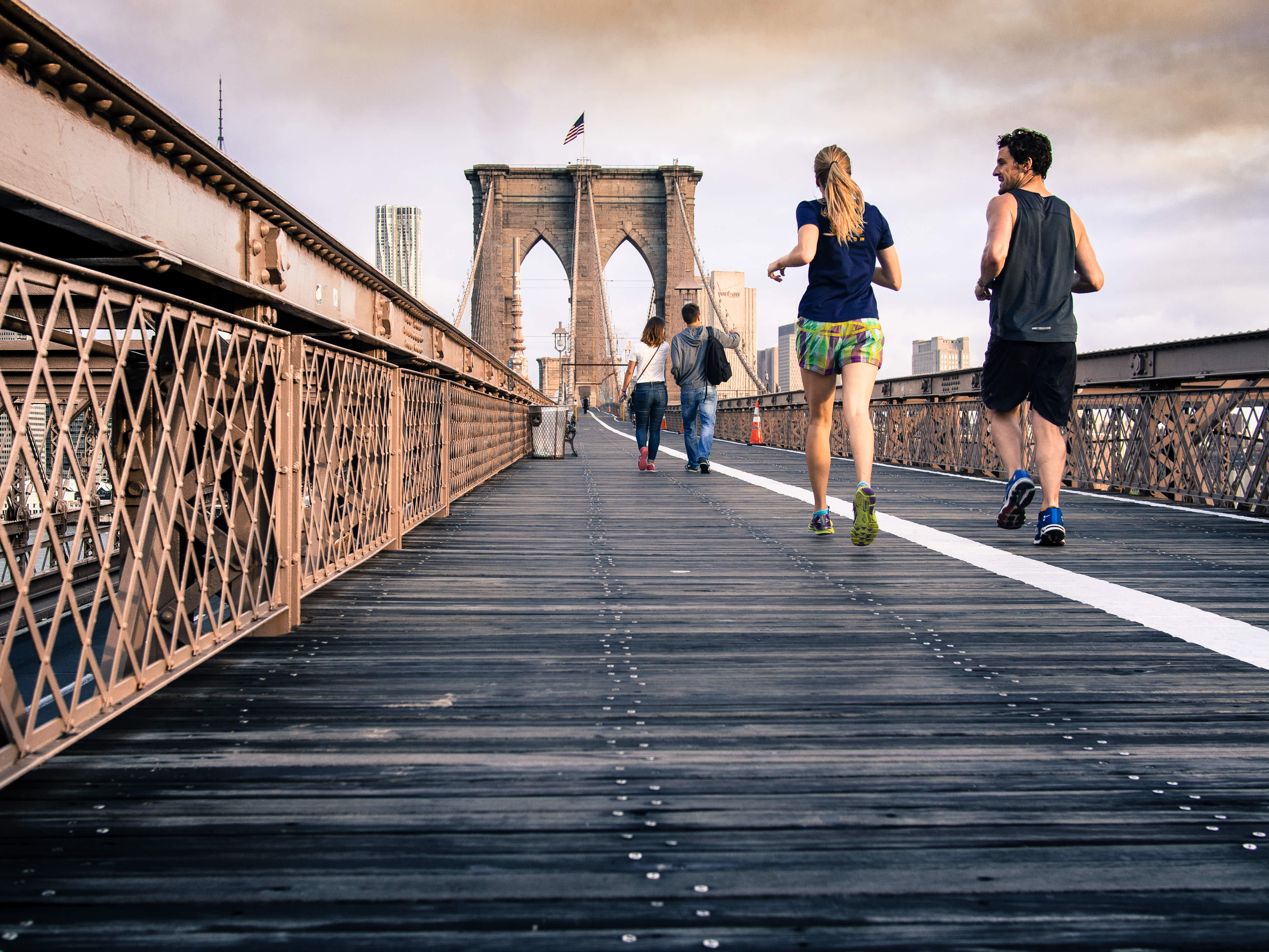 Employ­ee Well­ness Pro­grams are a key fac­tor in employ­ee engage­ment and over­all com­pa­ny suc­cess in today's busi­ness world. Well­ness pro­grams are con­sis­tent­ly evolv­ing and chang­ing as employ­ee demands shift. Com­pa­nies are con­stant­ly look­ing for new ways to engage and encour­age their employ­ees, prefer­ably at a low­er cost. Below are some effec­tive and cost-effi­cient ways to enhance your employ­ee well­ness pro­grams, leav­ing your employ­ees hap­pi­er and more excit­ed about work!
Walk and Talk Meetings
Walk and Talk meet­ings are becom­ing a pop­u­lar new way that com­pa­nies can encour­age employ­ee fit­ness in the work­place. The aver­age Amer­i­can employ­ee spends the vast major­i­ty of the day sit­ting at the desk, and stud­ies show that 86% of them hate it. The walk and talk meet­ings pro­vide a way to get up and move around, while still being pro­duc­tive with the work that needs to be accom­plished. In addi­tion, walk­ing boosts cre­ativ­i­ty and new envi­ron­ments pro­duce fresh ideas. A Stan­ford study recent­ly found that, "walk­ing has a very spe­cif­ic ben­e­fit – the improve­ment of cre­ativ­i­ty." So, next time you're look­ing for a boost of cre­ativ­i­ty and activ­i­ty in your sched­ule, con­sid­er tak­ing your meet­ing for a walk.
Fit Bit Challenges
Fit Bits are one of the most pop­u­lar fit­ness track­ers on the mar­ket. Sev­er­al employ­ees already have per­son­al Fit Bits so bring­ing them into the work­place is an easy tran­si­tion. For those that do not, many com­pa­nies are buy­ing them in large bun­dles for resale at dis­count­ed rates to their employ­ees. Com­pa­nies are find­ing inno­v­a­tive ways to incor­po­rate Fit Bits into their well­ness pro­grams to keep employ­ees active while also fos­ter­ing team­work. Accord­ing to Fit Bit, by hold­ing chal­lenges and com­pe­ti­tions using the Fit Bit, com­pa­nies cre­ate group health that is eas­i­ly track­able. More specif­i­cal­ly, "Fit Bit users with one or more friends are 27% more active." The con­cept of using the Fit Bit with oth­er employ­ees builds bet­ter rela­tion­ships as well as holds them account­able for being active.
The chal­lenges are a sim­ple and cost effi­cient way to improve over­all health and many com­pa­nies have had great suc­cess through using the Fit Bit. For exam­ple, The Cleve­land Cav­a­liers' employ­ees did a Fit Bit walk­ing chal­lenge in which they logged their dai­ly activ­i­ties and food. In order to entice work­ers to take part, they held com­pe­ti­tions with prizes that spiked employ­ee par­tic­i­pa­tion and over­all health and hap­pi­ness. The result of the chal­lenge- "employ­ees reached their per­son­al fit­ness and weight loss goals, con­fer­ence room meet­ings became walk­ing meet­ings, and ele­va­tor trips were nixed in favor of the stairs. By the time their chal­lenge came to a close, par­tic­i­pants had record­ed a cumu­la­tive 76.6 mil­lion steps—more than 38,000 miles—and cre­at­ed new healthy habits to take into the future." Your com­pa­ny could be the next to see amaz­ing Fit­Bit chal­lenge results!
Healthy Vend­ing Machines
In order to achieve a healthy lifestyle, the com­bi­na­tion of exer­cise and healthy eat­ing is essen­tial. For busy employ­ees, grab­bing a quick snack is a typ­i­cal dai­ly rou­tine, how­ev­er these quick grabs are often unhealthy. Keep­ing healthy vend­ing machines, or stock­ing the fridge with fruits and veg­eta­bles allows work­ers to snag a healthy snack that will aid over­all health and also sat­is­fy mid-day hunger crav­ings. In addi­tion, eat­ing healthy has many cog­ni­tive ben­e­fits that can trans­fer into employ­ees' work. For exam­ple, typ­i­cal ben­e­fits that arise from healthy eat­ing are an increase in con­cen­tra­tion and alert­ness, gen­er­at­ing bet­ter work from each of your employ­ees.
Competitions
Com­pe­ti­tions can eas­i­ly be tai­lored to fit your company's cul­ture! One of the most pop­u­lar work­place com­pe­ti­tions is the Biggest Los­er chal­lenge. In this type of chal­lenge, the employ­ee or team of employ­ees sets a weight loss goal. The group that los­es the most weight by the end of the allot­ted com­pe­ti­tion time wins! Anoth­er pop­u­lar chal­lenge is sign­ing up for local 5Ks or half marathons and run­ning the race with your co-work­ers. You can encour­age employ­ees to par­take in fit­ness chal­lenges by hav­ing prizes or mon­e­tary rewards. Aside from the obvi­ous health results, chal­lenges like these encour­age team­work and healthy com­pe­ti­tion inside the work­place. Above all else, it's impor­tant to get cre­ative with whichev­er com­pe­ti­tion you choose!
The key to a suc­cess­ful well­ness pro­gram is to make it per­son­al to what your employ­ees enjoy and will want to par­tic­i­pate in. These are just a few ways that you can find suc­cess in employ­ee well­ness through­out your com­pa­ny. So, boost your over­all employ­ee morale and effi­cien­cy by imple­ment­ing these sim­ple yet cost effi­cient well­ness ideas in your dai­ly routines!
Con­tributed by Nicole Federico