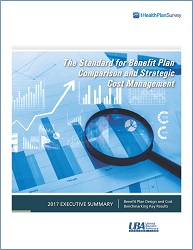 I'm hap­py to report that this year's UBA Health Plan sur­vey achieved a mile­stone. For the first time, we sur­passed 20,000 health plans entered—20,099 health plans to be exact, which were spon­sored by 11,221 employ­ers. What we were able to deter­mine from all this data was that a tumul­tuous Pres­i­den­tial elec­tion like­ly encour­aged many employ­ers to stay the course and make only minor increas­es and decreas­es across the board while the future of the Patient Pro­tec­tion and Afford­able Care Act (ACA) became clearer.
There were, how­ev­er, a few note­wor­thy changes in 2017. Pre­mi­um renew­al rates (the com­par­i­son of sim­i­lar plan rates year over year) rose near­ly 7%, rep­re­sent­ing a depar­ture from the trend the last five years. To con­trol these costs, employ­ers shift­ed more pre­mi­um to employ­ees, offered more low­er-cost CDHP and HMO plans, increased out-of-net­work deductibles and out-of-pock­et max­i­mums, and sig­nif­i­cant­ly reduced pre­scrip­tion drug cov­er­age as six-tier pre­scrip­tion drug plans explod­ed on the mar­ket­place. Self-fund­ing, par­tic­u­lar­ly among small groups, is also on the rise.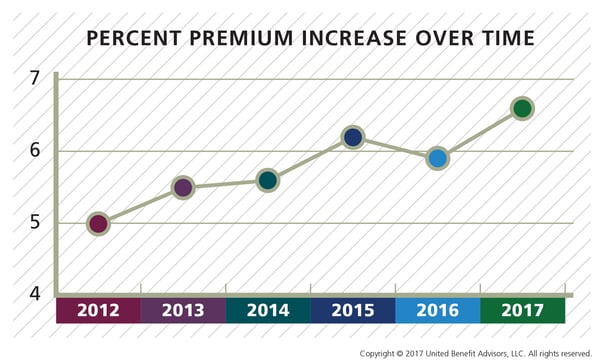 UBA has con­duct­ed its Health Plan Sur­vey since 2005. This longevi­ty, cou­pled with its size
 and scope, allows UBA to main­tain its supe­ri­or accu­ra­cy over any oth­er bench­mark­ing sur­vey in the U.S. In fact, our unpar­al­leled num­ber of report­ed plans is near­ly three times larg­er than the next two of the nation's largest health plan bench­mark­ing sur­veys com­bined. The result­ing vol­ume of data pro­vides employ­ers of all sizes more detailed—and there­fore more meaningful—benchmarks and trends than any oth­er source.
By Peter Weber
Orig­i­nal­ly post­ed by www.UBABenefits.com