Many employ­ers bench­mark their health plan against car­ri­er pro­vid­ed nation­al data. While that is a good place to start, region­al cost aver­ages vary, mak­ing it essen­tial to bench­mark both nation­al­ly and region­al­ly—as well as state by state. For exam­ple, a sig­nif­i­cant dif­fer­ence exists between the cost to insure an employ­ee in the North­east ver­sus the Cen­tral U.S.—plans in the North­east con­tin­ue to cost the most since they typ­i­cal­ly have low­er deductibles, con­tain more state-man­dat­ed ben­e­fits, and fea­ture high­er in-net­work coin­sur­ance, among oth­er factors.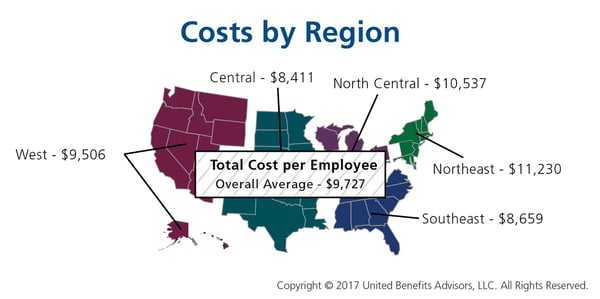 Drilling down even more, com­par­ing your­self to your indus­try peers can tell a very dif­fer­ent story.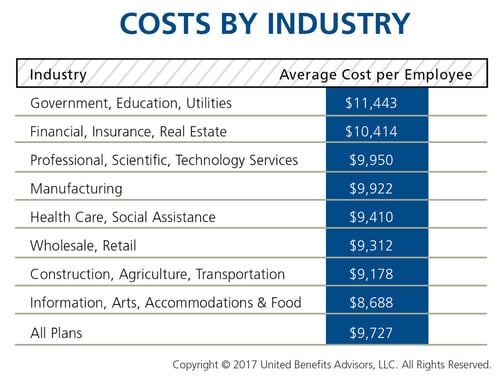 Con­sid­er a man­u­fac­tur­ing plant in Geor­gia that offers a PPO. Its pre­mi­um cost for sin­gle cov­er­age is $507 per month. Com­pare this with the bench­marks for all plans and you can see that it is $2 per month less than the nation­al aver­age. When com­pared with oth­er PPOs in the South­east region, this employer's cost is actu­al­ly $2 more than the aver­age. This employer's cost appears to be high­er or low­er com­pared with nation­al and region­al bench­marks, depend­ing on which bench­mark is used. Yet this employer's cost is actu­al­ly high­er than its clos­est peers' costs when using the state-spe­cif­ic bench­mark, which in Geor­gia is $468. Bot­tom line, this employer's month­ly sin­gle pre­mi­um is actu­al­ly $39 more than its com­peti­tors in the state.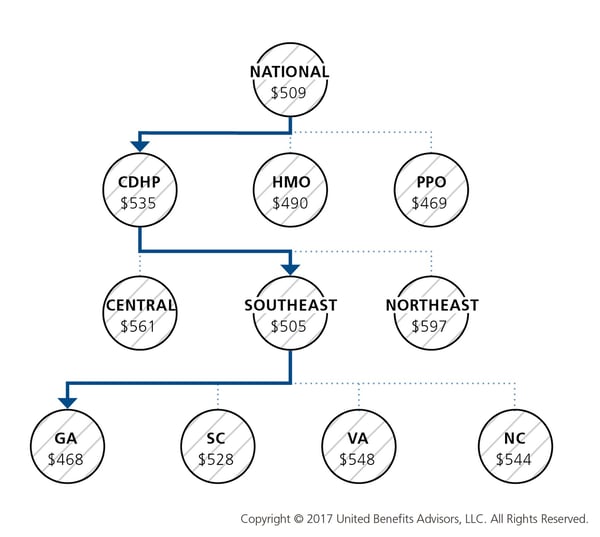 As our CEO, Les McP­hear­son, recent­ly stat­ed, "Bench­mark­ing by state, region, indus­try, and group size is crit­i­cal. We see it time and time again, espe­cial­ly with new clients. An employ­er bench­marks their rates nation­al­ly and they seem at or below aver­age, but once we look at their rates by plan type across mul­ti­ple car­ri­ers and among their neigh­bor­ing com­peti­tors or like-size groups, we find many employ­ers leave a lot on the bar­gain­ing table."