Danielle Capilla, Chief Compliance Officer at United Benefit Advisors
On March 4, 2015, the U.S. Supreme Court heard oral argu­ments in King v. Bur­well, a case that cen­ters on the mean­ing of statu­to­ry lan­guage in the Patient Pro­tec­tion and Afford­able Care Act (PPACA). At ques­tion in the case is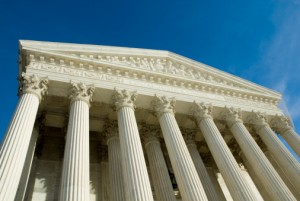 whether or not the Inter­nal Rev­enue Ser­vice (IRS) may issue reg­u­la­tions to extend tax-cred­it sub­si­dies to cov­er­age pur­chased through health Exchanges estab­lished by the fed­er­al gov­ern­ment via the Depart­ment of Health and Human Ser­vices (HHS) under Sec­tion 1321 of PPACA.
The rul­ing from the court is expect­ed in late May or June of 2015. The case involves chal­lenges to the IRS rul­ing that indi­vid­u­als are eli­gi­ble for the pre­mi­um sub­sidy regard­less of whether their state has a state-run or fed­er­al­ly-run Mar­ket­place or Exchange. In King, a low­er court held that the cur­rent IRS inter­pre­ta­tion of Sec­tion 36B, which pro­vides for pre­mi­um tax cred­its to any­one who pur­chas­es insur­ance on any Exchange, is rea­son­able. Con­verse­ly, anoth­er court, in a case called Hal­big v. Bur­well, held that, based on the way the law is writ­ten, the sub­si­dies should only be avail­able to peo­ple liv­ing in a state with a state-run exchange. As we await the deci­sion, employ­ees will still receive pre­mi­um sub­si­dies and employ­ers should con­tin­ue prepa­ra­tions to meet the employ­er-shared responsibility/"play or pay" requirements.
For more infor­ma­tion on this case, down­load UBA's free PPACA Advi­sor, "Supreme Court Hears Oral Argu­ment in Sub­sidy Eli­gi­bil­i­ty Bat­tle".
Top­ics: health insur­ance exchanges, PPACA Afford­able Care Act, Play or Pay, health care sub­si­dies, employ­er shared respon­si­bil­i­ty, tax-cred­it subsidy