By Bill Olson, Chief Mar­ket­ing Offi­cer at Unit­ed Ben­e­fit Advisors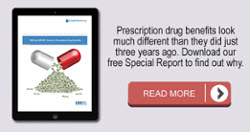 UBA's Spe­cial Report – Trends in Pre­scrip­tion Drug Ben­e­fits explores our Health Plan Sur­vey find­ings in more detail, par­tic­u­lar­ly exam­in­ing what's hap­pen­ing with pre­scrip­tion drug plan design among dif­fer­ent group sizes, regions and indus­tries. When it comes to copay amounts, medi­an retail pre­scrip­tion drug copays are $10/$30 for two-tier plans, $10/$35/$55 for three-tier plans, and $10/$35/$60/$100 for four-tier plans. These amounts have remained large­ly flat from 2014.
Gener­ic drugs in the low­est tier gen­er­al­ly cost less than $10, so employ­ees are pay­ing all or most of the gener­ic cost with the tier 1 copay. This makes it dif­fi­cult to raise that amount, espe­cial­ly if employ­ers are con­cerned about med­ica­tion adher­ence. But in four-tier mod­els, the tier 3 copay increased 20%. Since this tier cov­ers non-for­mu­la­ry brands, copay increas­es may con­tin­ue as drug costs in this cat­e­go­ry soar.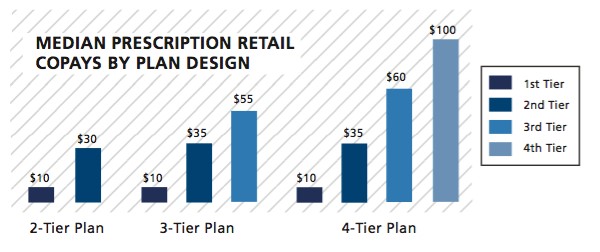 While medi­an copays in four-tier plans see no fluc­tu­a­tion among region, size or indus­try, three-tier plans show some cre­ative cost man­age­ment among some groups. For exam­ple, the largest employ­ers (1,000+ employ­ees) and North­east­ern groups are push­ing up the tier 3 copay above aver­age. With employ­ers flock­ing to 4+ tier plans, copay hikes in three-tier mod­els may become more com­mon for those hes­i­tant to expand drug tiers.
As five-tier plans emerge, the medi­an copays are $10/$10/$40/$70/$100. This will be an impor­tant base­line to watch now that the UBA Health Plan Sur­vey will start to break this out sep­a­rate­ly. In pre­dictable fash­ion, small groups tend to set copays high­er than aver­age, while the large groups are below aver­age. Region­al­ly, the West is exper­i­ment­ing with dri­ving the fifth tier copay sig­nif­i­cant­ly high­er than aver­age ($150) while keep­ing the oth­er copays at or below aver­age. The Cen­tral U.S. is push­ing most copays in five-tier plans high­er than average.