Under the Patient Pro­tec­tion and Afford­able Care Act (ACA), indi­vid­u­als are required to have health insur­ance while applic­a­ble large employ­ers (ALEs) are required to offer health ben­e­fits to their full-time employ­ees. In order for the Inter­nal Rev­enue Ser­vice (IRS) to ver­i­fy that (1) indi­vid­u­als have the required min­i­mum essen­tial cov­er­age, (2)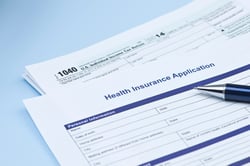 indi­vid­u­als who request pre­mi­um tax cred­its are enti­tled to them, and (3) ALEs are meet­ing their shared respon­si­bil­i­ty (play or pay) oblig­a­tions, employ­ers with 50 or more full-time or full-time equiv­a­lent employ­ees and insur­ers will be required to report on the health cov­er­age they offer. Report­ing will first be due ear­ly in 2016, based on cov­er­age in 2015. All report­ing will be for the cal­en­dar year, even for non-cal­en­dar year plans. Mid-size employ­ers (those with 50 to 99 employ­ees) will report in 2016, despite being in a peri­od of tran­si­tion relief in regard to hav­ing to offer cov­er­age. The report­ing require­ments are in Sec­tions 6055 and 6056 of the ACA.
Draft 2015 Forms
The IRS has issued draft 2015 forms, which include a few changes from the 2014 forms. The biggest dif­fer­ence between the 2014 and 2015 ver­sions are on Form 1095‑C, which in 2015 will like­ly include (assum­ing the draft forms are final­ized as they cur­rent­ly appear) a "plan start month" field, allow­ing a fil­er to indi­cate the first month of the ALE's plan year. The draft instruc­tions indi­cate this would be option­al for 2015. ALEs could use the 2014 for­mat instead of fill­ing out the infor­ma­tion, or in the alter­na­tive may either fill out the first month of the plan year or fill in "00" rather than the actu­al first month. Begin­ning in 2016 this field would be required. Cur­rent­ly it is unclear if employ­ers can use the 2014 forms if they choose to use the 2014 for­mat, or if they should use the 2015 for­mat and leave the field blank.
In 2016 it is antic­i­pat­ed that for Form 1095‑C, there will be two new indi­ca­tor codes for Line 14. These codes would indi­cate if an offer of cov­er­age to an employ­ee's spouse is a con­di­tion­al offer.
Con­tin­u­a­tion sheets have been added to Part III of Form 1095‑C and Part IV of Form 1095‑B.
Draft 1094‑C (Transmittal/cover sheet)
Draft 1095‑C (Reports to indi­vid­u­als and IRS on cov­er­age offered)
Draft 1094‑B (Transmittal/cover sheet)
Draft 1095‑B (Report to indi­vid­u­als and the IRS on MEC)
For infor­ma­tion on which forms employ­ers should use for self-fund­ed plans and ful­ly insured plans, down­load UBA's PPACA Advi­sor, "IRS Releas­es Draft 2015 Forms for 6055/6056 Report­ing."
Our recent blog cov­ers high­lights of employ­er and insur­er report­ing require­ments. A more detailed overview of employ­er report­ing require­ments can be found in the UBA doc­u­ment "IRS Issues Final Forms and Instruc­tions for Employ­er and Insur­er Report­ing Forms."
Top­ics: PPACA Afford­able Care Act, 6055 Report­ing, 6056 Report­ing, Play or Pay, Indi­vid­ual man­date, employ­er shared respon­si­bil­i­ty, Danielle Capil­la