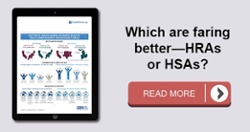 With health care costs and insur­ance pre­mi­ums con­tin­u­ing to rise, employ­ers are look­ing for ways to reduce their insur­ance expens­es. That usu­al­ly means increas­ing med­ical plan deductibles. Accord­ing to the lat­est UBA Health Plan Sur­vey, the aver­age in-net­work sin­gle med­ical plan deductible increased from $2,031 in 2015 to $2,127 in 2016. But shift­ing costs to employ­ees can be detri­men­tal to an employer's efforts to attract and retain top tal­ent. Employ­ers are look­ing for solu­tions that reduce their costs while min­i­miz­ing the impact on employees.
One way employ­ers can mit­i­gate increas­ing deductibles is by pack­ag­ing a high-deductible health plan with either a health sav­ings account (HSA) con­tri­bu­tion or a health reim­burse­ment arrange­ment (HRA). Either can be used to bridge some or all of the gap between a low­er deductible and a high­er deductible while reduc­ing insur­ance pre­mi­ums, and both offer tax ben­e­fits for employ­ers and employ­ees. How­ev­er, there are advan­tages and dis­ad­van­tages to each approach that employ­ers need to consider.
Health Sav­ings Account (HSA) Gen­er­al Attributes
The employ­ee owns the account and can take it when chang­ing jobs.
HSA con­tri­bu­tions can be made by the employ­er or employ­ee, sub­ject to a max­i­mum con­tri­bu­tion estab­lished by the government.
Triple tax advan­tage – funds go in tax-free, accounts grow tax-free, and with­drawals are tax-free as long as they are for qual­i­fied expens­es (see IRS pub­li­ca­tion 502).
Funds may accu­mu­late for years and be used dur­ing retirement.
The HSA must be paired with an IRS qual­i­fied high-deductible health plan (QHDHP); not just any plan with a deductible of $1,300 or more will qualify.
HSA Advan­tages
Costs are more pre­dictable as they are not relat­ed to actu­al expens­es, which can vary from year to year; con­tri­bu­tions may also be spread out through the year to improve cash flow.
Employ­ees become bet­ter con­sumers since there is an incen­tive to not spend the mon­ey and let it accu­mu­late. This can result in an imme­di­ate reduc­tion in claims costs for a self-fund­ed plan.
HSAs can be set up with few­er admin­is­tra­tion costs; usu­al­ly no admin­is­tra­tor is need­ed, and no ERISA sum­ma­ry plan descrip­tion (SPD) is needed.
The employ­er is not held respon­si­ble by the IRS for ensur­ing that the employ­ee is eli­gi­ble and that the con­tri­bu­tion max­i­mums are not exceeded.
HSA Dis­ad­van­tages
Employ­ees can­not par­tic­i­pate if they're also cov­ered under a non-qual­i­fied health plan, which includes Tri­care, Medicare, or even a spouse's flex­i­ble spend­ing account (FSA).
Employ­ees accus­tomed to copays for office vis­its or pre­scrip­tions may be unhap­py with the ben­e­fits of the QHDHP.
IRS rules can be con­fus­ing; IRS penal­ties may apply if the employ­ee is inel­i­gi­ble for a con­tri­bu­tion or oth­er mis­takes are made, which might intim­i­date employees.
Employ­ees may for­go treat­ment to avoid spend­ing their HSA bal­ance or if they have no HSA funds available.
Health Reim­burse­ment Arrange­ment (HRA) Gen­er­al Attributes
Only an employ­er can con­tribute to an HRA; employ­ees cannot.
The employ­er con­trols the cash until a claim is filed by the employ­ee for reimbursement.
HRA con­tri­bu­tions are tax deductible to the employ­er and tax-free to the employee.
To com­ply with the Patient Pro­tec­tion and Afford­able Care Act (ACA), an HRA must be com­bined with a group med­ical insur­ance plan that meets ACA requirements.
HRA Advan­tages
HRAs offer more employ­er con­trol and flex­i­bil­i­ty on the design of the HRA and the health plan does not need to be HSA qualified.
The employ­er can set it up as "use it or lose it" each year, thus reduc­ing fund­ing costs.
An HRA is com­pat­i­ble with an FSA (not just lim­it­ed-pur­pose FSA).
Depend­ing on the employ­er group, HRAs can some­times be less con­fus­ing for employ­ees, par­tic­u­lar­ly if the plan design is simple.
HRA funds revert to the employ­er when an employ­ee leaves – which might increase employ­ee retention.
HRA Dis­ad­van­tages
Self-employed indi­vid­u­als can­not par­tic­i­pate in HRA funding.
There is lit­tle or no incen­tive for employ­ees to con­trol uti­liza­tion since funds may not accu­mu­late from year to year.
More admin­is­tra­tion may be nec­es­sary – HRAs are sub­ject to ERISA and COBRA laws.
HRAs could raise HIPAA pri­va­cy con­cerns and cre­ate the need for poli­cies and testing.
Both HSAs and HRAs can be of tremen­dous val­ue to employ­ers and employ­ees. As shown, there are, how­ev­er, a num­ber of con­sid­er­a­tions to deter­mine the best pro­gram and design for each sit­u­a­tion. In some cas­es, employ­ers may con­sid­er offer­ing both, allow­ing employ­ees to choose between an HSA con­tri­bu­tion and a com­pa­ra­ble HRA con­tri­bu­tion, accord­ing to their indi­vid­ual circumstances.
For a com­pre­hen­sive chart that com­pares eli­gi­bil­i­ty cri­te­ria, con­tri­bu­tion rules, reim­burse­ment rules, report­ing require­ments, pri­va­cy require­ments, applic­a­ble fees, non-dis­crim­i­na­tion rules and oth­er char­ac­ter­is­tics of account-based plans, request UBA's Com­pli­ance Advi­sor, "HRAs, HSAs, and Health FSAs – What's the Dif­fer­ence?".
For infor­ma­tion on mod­est con­tri­bu­tion strate­gies that are still dri­ving enroll­ment in HSA and HRA plans, read our break­ing news release.
For a detailed look at the preva­lence and enroll­ment rates among HSA and HRA plans by indus­try, region and group size, view UBA's "Spe­cial Report: How Health Sav­ings Accounts Mea­sure Up", to under­stand which aspects of these accounts are most suc­cess­ful, and least successful.
Orig­i­nal­ly pub­lished by www.ubabenefits.com