By Bill Olson
Chief Mar­ket­ing Offi­cer at Unit­ed Ben­e­fit Advisors
Are you bench­mark­ing your health plan cor­rect­ly? If you are using data from your car­ri­er or a small study of only large employ­ers, chances are you are not effec­tive­ly ana­lyz­ing your rates. To tru­ly bench­mark your plan, you need to com­pare your plan to oth­ers in your state, indus­try, and size cat­e­go­ry. That's the best way to tru­ly know if you are get­ting the best rates or should nego­ti­ate more. This type of gran­u­lar bench­mark­ing can also help with your work­force com­mu­ni­ca­tion strat­e­gy. If you know your plan is bet­ter than most in your state or indus­try, you'll have pow­er­ful talk­ing points when deliv­er­ing ben­e­fit infor­ma­tion sessions.
Let's take a look at how the UBA Health Plan Sur­vey is used to do this kind of tai­lored bench­mark­ing. Con­sid­er a design firm in Geor­gia that offers a con­sumer-direct­ed health plan (CDHP). Its pre­mi­um cost for sin­gle cov­er­age is $441 per month. Com­pare this with the bench­marks for all plans (see dia­gram) and you can see that it is $68 per month less than the nation­al aver­age. When com­pared with oth­er CDH­Ps in the South­east region, this employer's cost is actu­al­ly $18 per month more expen­sive than the aver­age. This employer's cost appears to be high­er or low­er com­pared with nation­al and region­al bench­marks, depend­ing on which bench­mark is used. Yet this employer's cost is actu­al­ly high­er than its clos­est peers' costs when using the state-spe­cif­ic bench­mark, which in Geor­gia is $435. Bot­tom line, this employer's month­ly sin­gle pre­mi­um is actu­al­ly $6 more than its com­peti­tors in the state. This kind of data can real­ly help employ­ers when they are at the nego­ti­at­ing table or when design­ing ben­e­fits to attract and retain talent.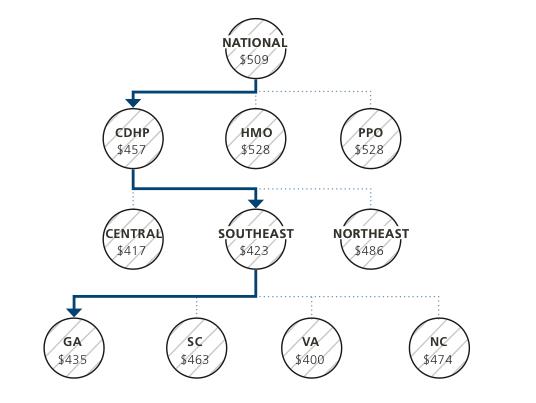 Data in the 2015 UBA Health Plan Sur­vey are based on respons­es from 10,804 employ­ers spon­sor­ing 18,186 health plans nation­wide. This num­ber of report­ed plans is near­ly three times larg­er than the next two of the nation's largest health plan bench­mark­ing sur­veys com­bined. Bench­mark­ing data from the UBA Health Plan Sur­vey can help you gauge a wide range of fac­tors regard­ing your health plan offer­ings, such as:
Are com­pa­ny pre­mi­ums above or below the norm?
Are the lev­els of con­tri­bu­tions you require your employ­ees to pay in line with your competitors?
Are co-pays, deductibles, coin­sur­ance, and out-of-pock­et max­i­mums for your plans in line with aver­ages for your geog­ra­phy, indus­try, and size?
How do your annu­al pre­mi­um increas­es com­pare with oth­er employ­ers in your area?
How do your pre­scrip­tion drug ben­e­fits compare?
Are you in step with the cost-con­tain­ment strate­gies being imple­ment­ed suc­cess­ful­ly by oth­er com­pa­nies in your industry?
Request a cus­tom bench­mark report from your local UBA Part­ner. This free resource was one of our top 8 most pop­u­lar resources for employ­ers!