…or is it????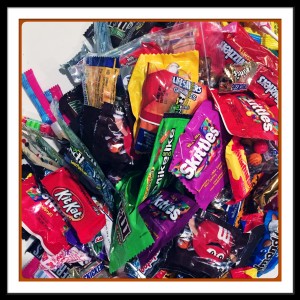 Did you get to go out and trick or treat with your fam­i­ly over the week­end or were you one of the smart ones that stayed home and gave it out instead??? It does­n't take a brain sur­geon (or any doc­tor for that mat­ter) to tell you that kids just LOVE can­dy. But did you know that as Amer­i­cans, we eat almost 7 table­spoons on aver­age of the stuff every­day! Sug­ar is hid­den in a vari­ety of dif­fer­ent for­mats, such as sucrose, dex­trose, or glu­cose, but almost all of it pro­vides the emp­ty calo­ries that can be the fast track gate­way to dia­betes, heart dis­ease, and arthri­tis. But there is an easy solu­tion — sim­ply try to eat less of it. Even the small­est change can and will make a dif­fer­ence to your over­all health.
So think about your den­tist's offer to buy back your Hal­loween can­dy, (some offer up to a dol­lar for every pound of can­dy you bring in!) and try fool­ing your sweet tooth with one of these healthy snack alter­na­tives instead:
Fresh fruit
Yogurt
Home­made frozen Popsicle's
Baked apples
Home­made Fruit smoothies
Nuts and seeds
Cel­ery with peanut butter
Raw car­rot sticks, cucum­ber slices, green pep­per wedges (or any fresh veg­eta­bles, for that mat­ter) served with a small amount of yoghurt based dip or hummus
and of course, please always remem­ber to brush your teeth or swish with water after you indulge — your den­tist will love you for it.