By Danielle Capilla
Chief Com­pli­ance Offi­cer at Unit­ed Ben­e­fit Advisors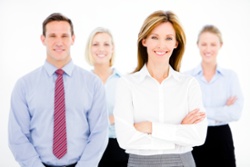 The Pro­vid­ing Afford­able Cov­er­age for Employ­ees (PACE) Act amend­ed the Patient Pro­tec­tion and Afford­able Care Act (ACA) and rede­fined small employ­ers as those with 50 or few­er employ­ees; it also gives states the option to expand the def­i­n­i­tion to include employ­ers with up to 100 employ­ees (or, prac­ti­cal­ly speak­ing, those with 51 to 100 employ­ees, also called "mid-size employ­ers"). Pri­or to the ACA, all states defined small employ­ers as those with 1 to 50 or 2 to 50 employ­ees; how­ev­er, many have passed leg­is­la­tion redefin­ing the group size up to 100 employ­ees begin­ning in 2016. States are now in the process of deter­min­ing what they define as "small employer."
The Cen­ters for Medicare & Med­ic­aid Ser­vices (CMS), in response to the PACE Act, issued an FAQ on the impact of the PACE Act on small group expan­sion. CMS clar­i­fied that states that choose to expand the def­i­n­i­tion up to 100 employ­ees begin­ning Jan­u­ary 1, 2016, were required to noti­fy CMS of the deci­sion by Octo­ber 1, 2015. States with oth­er effec­tive dates should noti­fy CMS of the deci­sions as soon as is prac­ti­cal. A state's def­i­n­i­tion is legal­ly bind­ing on health insur­ance issuers.
Regard­ing rate fil­ings by the car­ri­ers, the FAQ stat­ed that states with a state-based Small Busi­ness Health Options Pro­gram (SHOP) that do not rely on the fed­er­al plat­form have the dis­cre­tion, con­sis­tent with state law and reg­u­la­tions, to allow resub­mis­sion of small group cov­er­age rate fil­ings, includ­ing changes to rates for the first quar­ter of 2016. Tech­ni­cal con­straints will pro­hib­it car­ri­ers to change rate fil­ings for the first quar­ter in states that uti­lize a fed­er­al­ly-facil­i­tat­ed (FF) SHOP or a state-based SHOP using the fed­er­al plat­form. Rates may be adjust­ed effec­tive April 1, 2016.
On Novem­ber 1, 2015, the begin­ning of open enroll­ment for 2016 cov­er­age, all FF-SHOP eli­gi­bil­i­ty screens on HealthCare.gov will ask employ­ers if they have 1 to 50 employ­ees for pur­pos­es of SHOP eli­gi­bil­i­ty. CMS is work­ing to update these screens as quick­ly as pos­si­ble in applic­a­ble states.
The PACE Act will not affect count­ing method­olo­gies used by SHOPs in rela­tion to employ­er shared respon­si­bil­i­ty, med­ical loss ratio (MLR) cal­cu­la­tions, risk adjust­ment or risk cor­ri­dors. The def­i­n­i­tion of a small employ­er for pur­pos­es of MLR, risk cor­ri­dors, and risk adjust­ment will fol­low the state def­i­n­i­tion. Report­ing for those pro­grams dur­ing a tran­si­tion in the state def­i­n­i­tion of small employ­er in the applic­a­ble report­ing year should align with the pol­i­cy issued to the employ­er, regard­less of actu­al employ­er size.
For more infor­ma­tion on the PACE Act, down­load UBA's ACA Advi­sor, "PACE Act Pass­es House, Sen­ate."
For com­pre­hen­sive bench­mark­ing infor­ma­tion on health care costs among employ­ers with 51 to 100 employees—including the rate out­look now that PACE has passed and com­mu­ni­ty rat­ing may be avoid­ed for these groups—download UBA's 2015 Health Plan Sur­vey Exec­u­tive Sum­ma­ry.